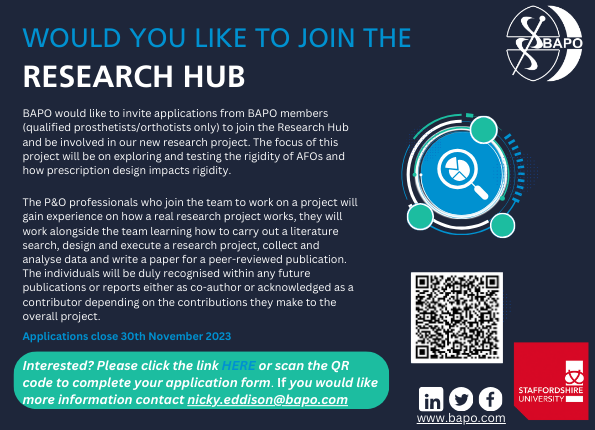 Research project:

The focus of this project will be on exploring and testing the rigidity of AFOs and how prescription design impacts rigidity. The research team consists of Prof. Nachi Chockalingam, Dr Nicky Eddison and Panagiotis Chatzistergos.

Benefits:

The P&O professionals who join the team to work on the project will gain experience of how a real research project works. They will work alongside the team learning how to carry out a literature search, design and execute a research project, collect and analyse data and write a paper for peer-reviewed publication and/or Health Education England report. The individual will be duly recognised within any future publications or reports either as a co-author or acknowledged as a contributor depending on the contributions they make to the overall project.

The process:

Once the applications have been received from BAPO members, the research team will choose two applicants and brief them on the detail of the project. The successful applicants will then be invited to all the research meetings and be included as a full member of the team for the duration of the project.

Who can apply:

Applications are open to all UK Prosthetists and Orthotists who are BAPO members; experience in research, years of practice and current job role are not relevant to the application process. The aim is to give everyone the opportunity to be part of research. Please note: the research hub is only for qualified P&O staff, students are not permitted to apply.

Is there a cost?
There is no cost to the applicant, this is a free-of-charge initiative with the aim of inspiring P&O professionals into research.
 
Complete the application form here
  
Please note deadline for applications – November 30th 2023
Testimonials
"Being part of the 'Research Hub' was a great experience, and I'm hugely grateful for the opportunity. I learned so much about the research process starting from literature searches right through to the submission of articles for publication. Huge thanks to Nicky and the team for their work with this initiative, can't wait to see the finished article in print!"  Nina Darke Orthotist
"I think the Research Hub itself is a fantastic initiative which will benefit our community I hope over time it can transform how our profession views and engages with research, and hopefully how other AHPs engage with us! "  Gwen Griffith, Prosthetist
"Being part of the research hub, allowed for this interest [in research] to become reality, whilst also acting as a safe space to really navigate and learn the world of research. This opportunity has been exceptional, as it's acted as a gateway into research, and I would encourage all to take the leap should they be interested" Millar Leask, Orthotist 
 
"I feel very lucky to have been chosen to represent our profession in the workforce project. Having never participated in any formal research previously, this was quite a challenging prospect. I wondered what I'd let myself in for, and questioned when I was going to fit in the additional work. However, the team have been incredibly welcoming and encouraging. I've never been given any task that was out of my ability, and it's been an insightful process to see how much work goes into putting such a piece of work together. At each stage, the team have been really supportive and understanding of clinical workload.  If asked would I do it again…yes!" Caroline Jackson, Orthotist