Staying Well is really important and we can all struggle with our physical and mental health at times. This page collates some great resources you can use to help you stay well.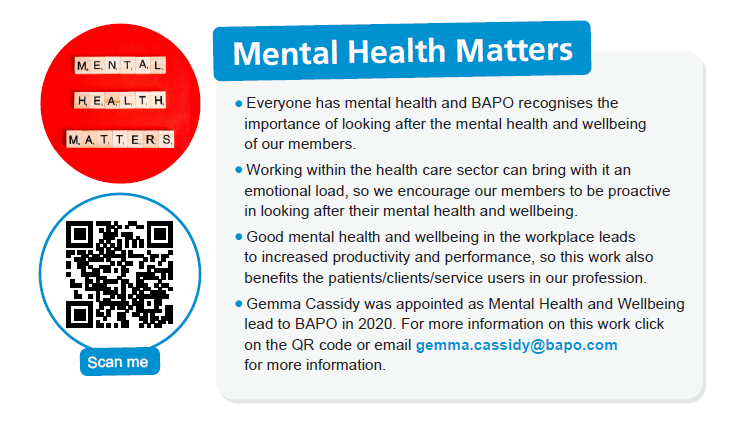 BAPO Signposts

The NHS run a website called Our NHS People which helps support people working within the NHS with a confidential support telephone line and access to guides on everything from sleeping well to managing stress.
IAPT (Improving Access to Psychological Therapies) offer talking therapies for problems like anxiety and depression. If you live in England they accept GP and self-referrals for over 18's into the service and can be accessed here
NHS Scotland has a campaign called 'Clear your Head' with some great resources that can be found here.
When thinking about our patients and mental health, ensure you follow the MECC principles – to find out more about brief interventions click here
For assistance with improving physical health check out One You which is also a great resource to point patients towards.
Other sites for support with mental health include:
A-Z links and information
NHS mental wellbeing toolkit
NHS Audio Guides for Mental Wellbeing
NHS Advice on Mindfulness
The Samaritans
Mind
World Mental Health Day – October 10th
Wellbeing Wheel – helps to understand your mental health
Guide to emotional resilience
Second Victim Support

COVID-19 Specific help sites include:
Guidance on mental health for staff in the NHS not on the frontline
MIND Covid-19 Guidance for staying well
Mental health resources during coronavirus | Acas
AHP'S IN ACTION:
NEURODIVERSITY
By focussing on the communication needs of patients, and in particular those who may have different requirements in terms of communication style, such as patients with mental health conditions, or neurodiversity such as learning difficulties or autism, can impact upon how effectively the patient then engages with the NHS and social support systems.
Simple changes made in clinic can have a great impact on a patient's experience. Accessible information, that includes simplified language, imagery and symbols can be helpful in aiding communication. Inclusive communication means to recognise and utilise all forms of communication rather than just written and verbal, such as facial expressions, gestures, movements, signs, pictures, and objects.

See the link below for various case studies on AHP's transforming the health, care, and wellbeing of neurodiverse patients:
ld_autism_case_study_collection_finalv3.pdf (ahpnw.nhs.uk)
MENTAL HEALTH
Mental health can affect a person's ability to participate in healthy behaviour's that impact upon physical health. This can increase the likelihood of some chronic diseases linked with physical health. Mental health can also impact a person's ability to participate in treatment and recovery.
Approximately 30% of people living with a long-term physical health condition also have a mental health issue. People who live with mental health conditions also have significantly higher rates of physical illness.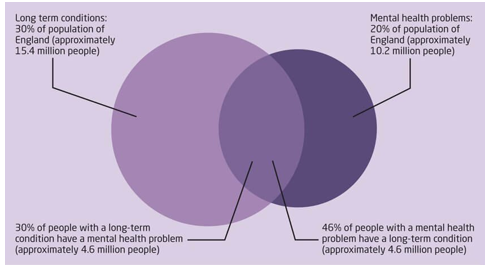 See the link below for case studies of AHP's supporting patients' wellbeing and mental health recovery:
ahp_mental_health_case_studies_finalv2.pdf (ahpnw.nhs.uk)
Burnout – Links and information

Burnout is a state of exhaustion, it can be experienced emotionally, physically or mentally due to excessive or chronic stress. Burnout can occur in any occupation but it has a higher prevalence amongst professional people in caring professions such as medicine, nursing, social work, counselling and teaching.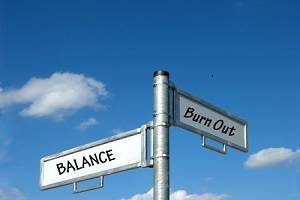 Burnout in Orthotics and Prosthetics article
www.oandplibrary.org/op/1986_02_024.asp
Examining the relationship between burnout and empathy in healthcare professionals: A systematic review
www.sciencedirect.com/science/article/pii/S2213058617300025
Healthcare Staff Wellbeing, Burnout, and Patient Safety: A Systematic Review
https://journals.plos.org/plosone/article?id=10.1371/journal.pone.0159015
Mindfulness, Self-Compassion, and Empathy among Health Care Professionals: A Review of the Literature
www.h-partners-for-life.com/wp-content/uploads/2017/04/Mindfulness-Self-Compassion-and-Empathy-Among-Health-Care-Professionals-A-Review-of-the-Literature.pdf
Workforce burnout & resilience report 2021-2022 in NHS and social care
https://committees.parliament.uk/publications/6158/documents/68766/default/
Mental health reports & action plans
WHO evidence for action, investing in mental health 2013
https://apps.who.int/iris/bitstream/handle/10665/87232/9789241564618_eng.pdf?sequence=1
NHS Adult Psychiatric Morbidity Survey 2014: Provides England's National Statistics for the monitoring of mental illness and treatment access in the population
https://webarchive.nationalarchives.gov.uk/ukgwa/20171010183932tf_/http://content.digital.nhs.uk/catalogue/PUB21748/apms-2014-full-rpt.pdf
Five year forward plan: Independent mental health task force report to the NHS 2016
https://www.england.nhs.uk/wp-content/uploads/2016/02/Mental-Health-Taskforce-FYFV-final.pdf
NHS mental health implementation plan 2019-2024
www.longtermplan.nhs.uk/wp-content/uploads/2019/07/nhs-mental-health-implementation-plan-2019-20-2023-24.pdf#:~:text=The%20Five%20Year%20Forward%20View%20for%20Mental%20Health%2C,health%20across%20England%20in%20the%20past%20three%20years
Mental wellness displays
Having mental wellness displays for staff and patients can encourage people to take some time to consider how they are feeling and thinking. Links below include resources and infographics that can be used as display posters.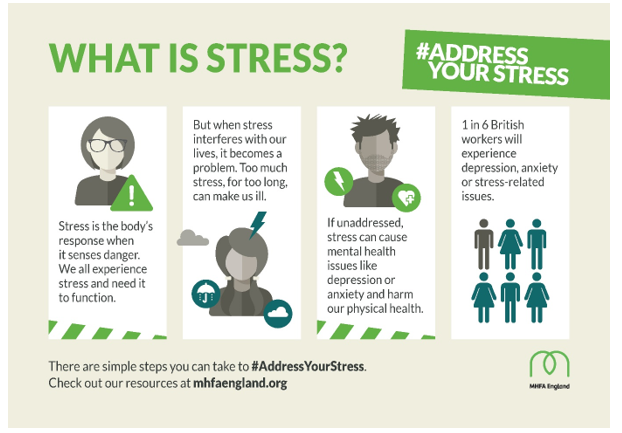 https://mhfaengland.org/mhfa-centre/resources/resource/?id=48b51c37-3ca5-e811-8147-e0071b668081
https://mhfaengland.org/mhfa-centre/resources/address-your-stress/
https://www.gov.uk/government/publications/frank-posters
https://resources.drinkaware.co.uk/collections/health-professionals
https://www.mind.org.uk/news-campaigns/campaigns/blue-light-programme/blue-light-resources/