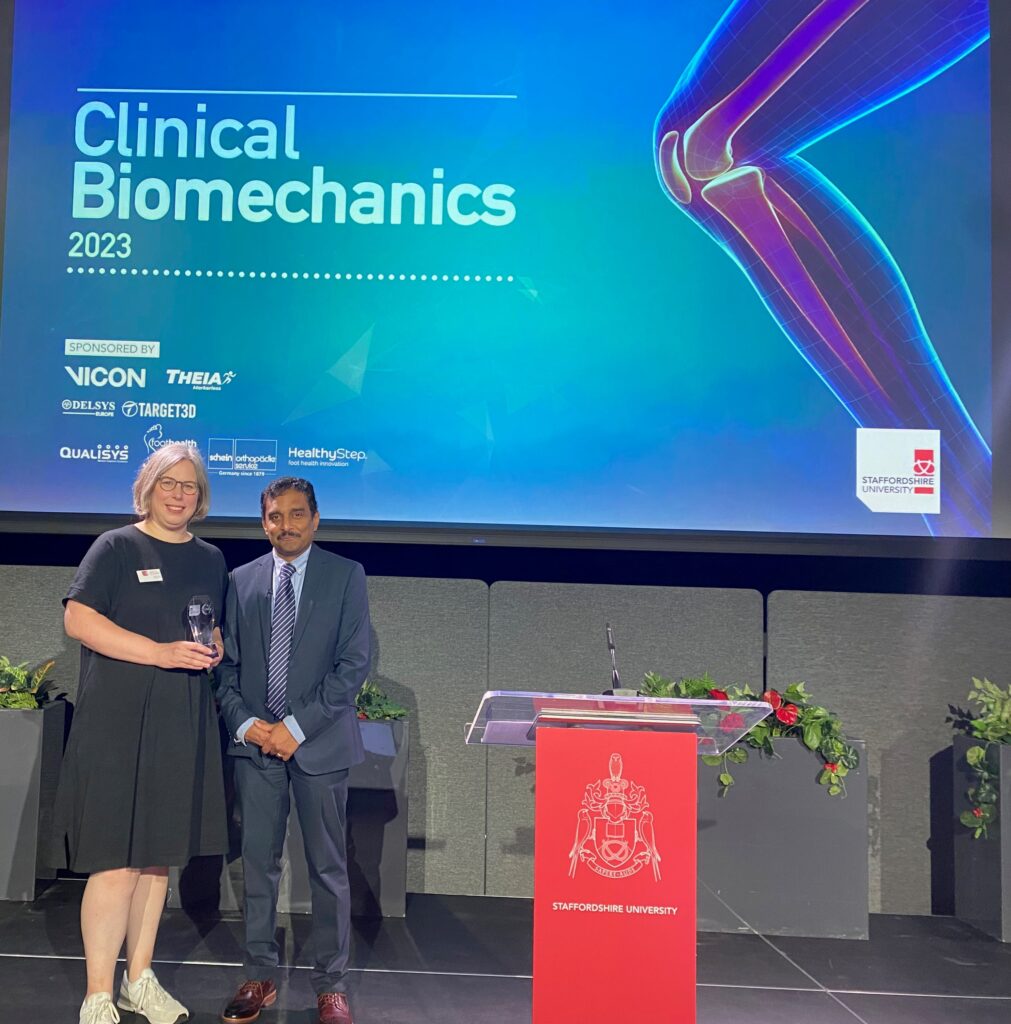 BAPO is pleased to announce the Orthotist of the Year 2023 award winner is Kate Chauhan.
Kate has excelled, setting an example to others, through being active in research; inspiring others to explore this area of practice, which is essential in demonstrating contemporary, evidence based, cost-effective prosthetic and orthotic care.
Kate has successfully developed her experience, engaging with several studies, including two National Institute for Health and Care Research (NIHR) randomised control trials.
BAPO would like to thank our friends and colleagues from Staffordshire University for their sponsorship and support for this increasingly popular award. Every year more nominations are submitted, and this is a testament to the dedication and hard work undertaken by orthotists, applying bioengineering principles and clinical skills, meeting the health needs of our population, often enabling and supporting those most vulnerable to live the most full and active lives possible.
"It is such an honour to be recognised for my work and receive this award from BAPO and the University of Staffordshire. 
This award means I can continue to raise awareness of the orthotics to a wider audience and continue to promote the importance of orthotic research.
Thank you to Steeper Group and Leeds Teaching Hospitals NHS Trust who have supported my career aspirations and given me the time to pursue a research active career and undertake further training. Thanks to the NIHR for their support through their personal research training awards, and thank you to all of the many clinicians, researchers, and patients that have given up their time and supported me on my journey.  
I will continue to raise awareness of our clinical role and the difference that we can make to people's lives and will work to support the next generation of research active orthotists." – Kate Chauhan
---
Orthotist of the Year 2021
Orthotist of the Year 2021 went to Steve Musgrove. To learn more about Steve listen to his #teatimetalk now available in the members section.
Professor Chockalingam, from Staffordshire University who kindly sponsor the award, highlighted the outstanding contributions made by all of the shortlisted candidates (Mark Waldron, Carolyn Royse, Nick Gallogly, Juliet Sturgess and Steve Musgrove) and said that this award will continue for years to come.
Nominations for 2022 are live now so get nominating!