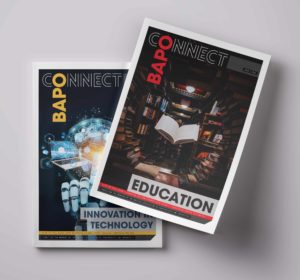 The British Association of Prosthetists and Orthotists (BAPO) provide advertising services via "BAPOConnect", a high quality prosthetic and orthotic publication, which is published three times a year for distribution to around 1,000 BAPO members, affiliates and associates as well as external mailing lists in the UK, Europe and the rest of the world.
The magazine has nine A4 slots available (landscape or portrait format) made up of two A4 black & white slots and seven A4 full colour slots. If necessary, advertising space may be increased to a maximum of eleven A4 slots at the Editor's discretion. One A4 loose-leaf insert is also available within any single BAPOConnect publication. Please note that space tends to sell quickly and you are encouraged to book early to avoid disappointment. A free complimentary copy of BAPOConnect is inclusive in advertising prices quoted.
If you are interested in utilising the magazine as an advertising platform to expose a product, short course or any other information, you are invited to complete & submit a booking by clicking on the link below . Acceptance of orders will be confirmed by BAPO in writing and is on a "first-come, first-served" basis. BAPO operate a Professional Courtesy Policy for existing advertisers, which allows them to retain their existing advertising slots. Reservations for three issues will take priority over reservations for one issue. The 3 issue discount will only be applied to block bookings for 3 issues or more.
| | | | |
| --- | --- | --- | --- |
| Issue | Article Submission Deadline | Artwork Submission Deadline | Publication Date |
| 1 | 3rd Jan 2023 | 3rd Jan 2023 | 15th March 2023 |
| 2 | 18th April 2023 | 18th April 2023 | 19th June 2023 |
| 3 | 8th August 2023 | 8th August 2023 | 10th October 2023 |
NB: Submission deadlines are final.