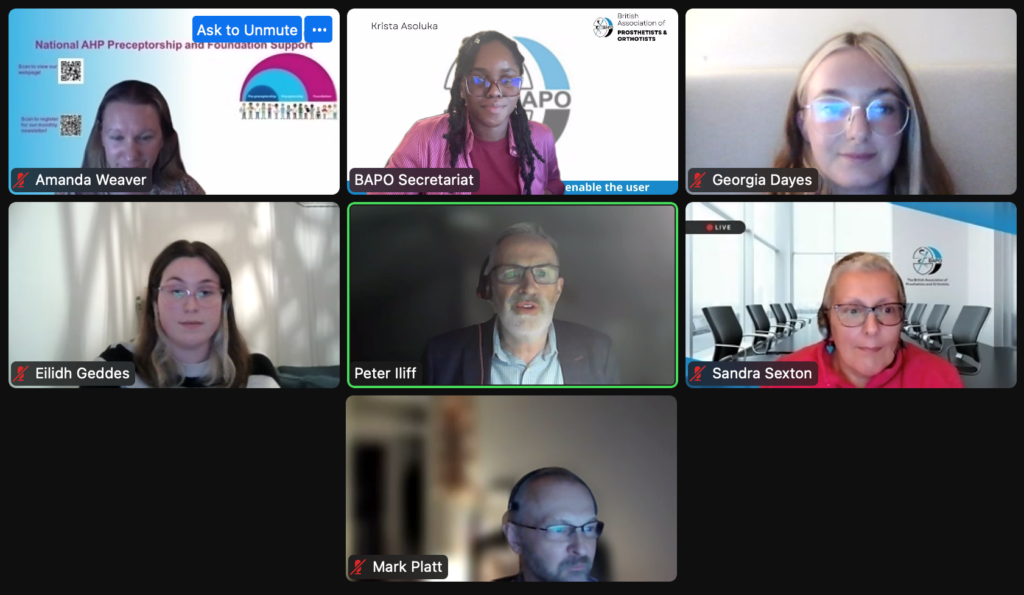 The British Association of Prosthetists and Orthotists (BAPO) in collaboration with NHS England Workforce Training and Education (NHSE WT&E) National AHP Preceptorship and Foundation Support Programme held a Zoom Webinar on 13 September tailored specifically for prosthetists and orthotists.
The event, hosted by BAPO, was an informative and engaging session. 
We have uploaded it to the BAPO YouTube channel for everyone to access, via the button below.


Audience:
Pre-registration learners
Preceptees
Preceptors
Preceptorship leads within their respective organisations
Service/department leads with responsibilities related to prosthetists and orthotists.
Sessions:
BAPO Preceptorship Update – Presented by Krista Asoluka from BAPO, who provided insights into preceptorship guidelines and best practices
HCPC Preceptorship Update – Mark Platt from HCPC offered the regulator's perspective on its 'Principles for preceptorship' work and their implications for prosthetists and orthotists
National Preceptorship Update – Amanda Weaver from NHSE WT&E provided crucial updates regarding preceptorship from a national perspective
Case Study: Georgia Dayes from Steepers shared her personal experience of her preceptorship program
Question and Answer Session – An interactive session to address any queries or thoughts   
Speakers: