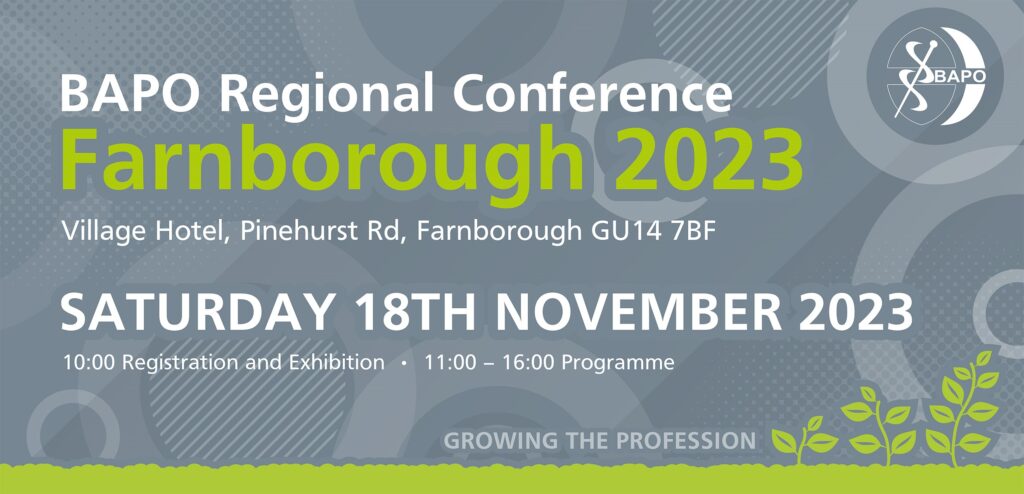 In 2023, BAPO is running regional events instead of a national conference. The second regional conference will be held on Saturday 18th November 2023 in Farnborough.
Call for Papers:
We encourage prosthetists, orthotists, technicians, support workers, managers, researchers, and students to submit an abstract for a 12-minute presentation about any aspect of growth related to prosthetic and orthotic professions, including any area of clinical practice, research, evidence, innovation, technical or manufacturing processes, education, leadership, mentoring or case studies.
Papers may be about a clinical audit, service improvement, case study, technical note or research study.
Please note:
Time limit for presentation is 12 minutes. A 3-minute maximum Q & A session will be allowed following the presentation

All submissions will be reviewed by the Education Committee which reserves the right to accept or reject the application based on pre-approved criteria
All submissions will receive a written acceptance or reason for not being included in the regional event
We recognise and value the amount and depth of work which goes into preparing a submission. We want to encourage as many submissions as possible, which if not accepted, may be reconfigured for a future event
Abstract Deadlines:
Applications for free paper abstracts are now open.
Submission deadline for free paper abstracts is Friday 6th October
Free paper applicants will be notified by Friday 13th October 2023
To submit your abstract, please complete the MS Form template via the link below.
If you have any questions, please email: enquiries@bapo.com