After the success of our first regional conference in Scotland, BAPO is excited to announce that we will hold our next regional conference in England on Saturday 18th November at The Village Hotel, Pinehurst Rd, Farnborough GU14 7BF. For directions please
click here
If you would like to stay at the hotel for the event, please use the code
VHEVE
to receive a discount off your accommodation
. This discount is only available when booking through the venue website.
You can visit the page
here
.
The theme for the one day event is
"Growing The Profession"
and our soon to be announced programme, will consist of a mix of invited speakers and free papers.
The event is targeted at P & O professionals and the wider P & O community. It is open to both BAPO members and non-members. It is a great opportunity to enhance knowledge, support continuing professional development, network with colleagues and engage with exhibitors in a face to face environment.
The programme will start at 11:00am and conclude at 4:00pm. Registration and the exhibition will start at 10:00am. There will be a 1 hour lunch break and a 30 minute coffee break in the afternoon in order to allow delegates to network with colleagues and friends.
Come along to learn, collaborate, communicate and share ideas!
BAPO members please log into your membership profile, via BAPO Member Ticket button below.
Non-members please click the non-members button below and complete the Non-Member Events registration.
For anyone wishing to purchase multiple tickets please email
enquiries@bapo.com
Early Bird Tickets Now Available Until
29th September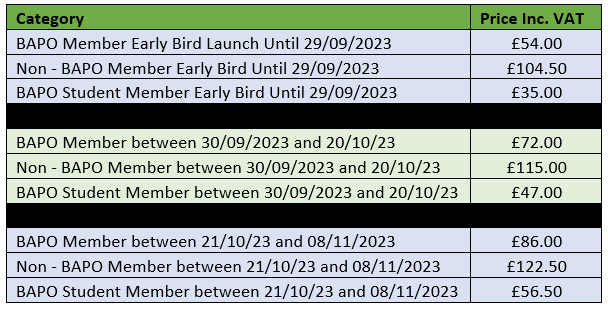 Call for Papers – BAPO Regional Conference – Farnborough 2023
We encourage prosthetists, orthotists, technicians, support workers, managers, researchers, and students to submit an abstract for a 12-minute presentation about any aspect of growth related to prosthetic and orthotic professions, including any area of clinical practice, research, evidence, innovation, technical or manufacturing processes, education, leadership, mentoring or case studies.
Papers may be about a clinical audit, service improvement, case study, technical note or research study.
Please note:
Time limit for presentation is 12 minutes. A 3-minute maximum Q & A session will be allowed following the presentation
All submissions will be reviewed by the Education Committee which reserves the right to accept or reject the application based on pre-approved criteria
All submissions will receive a written acceptance or reason for not being included in the regional event
We recognise and value the amount and depth of work which goes into preparing a submission. We want to encourage as many submissions as possible, which if not accepted, may be reconfigured for a future event
Abstract Deadlines:
Applications for free paper abstracts are now open.
Submission deadline for free paper abstracts is Friday 6th October
Free paper applicants will be notified by Friday 13th October 2023
To submit your abstract, please complete the MS Form template via the link below.
If you have any questions, please email: enquiries@bapo.com