Teatime Talks are short webinars based around a particular theme, presented virtually on zoom so you can watch in the comfort of your own home. Past Talks are available to view in the members area of the website at a time suitable for you if you can not make the live dates
---
---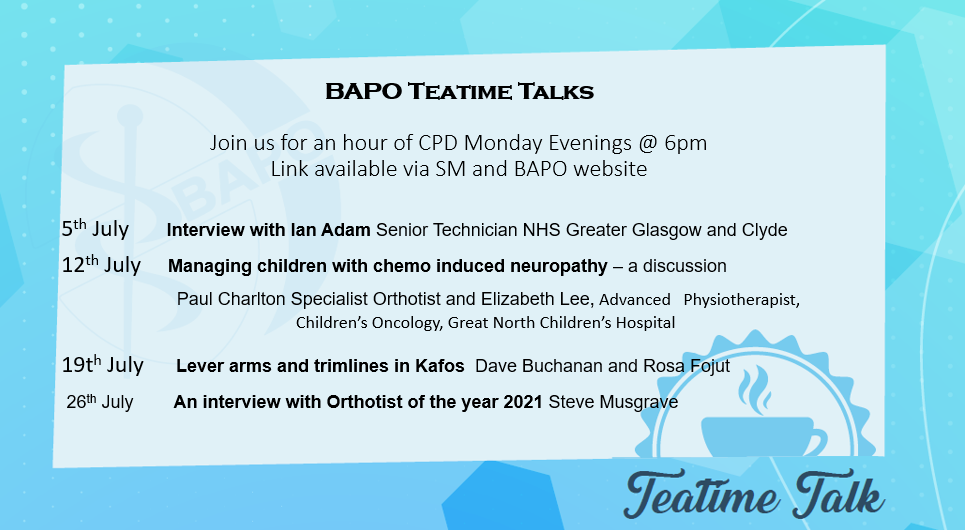 ---
---
---
An Interview with Steve Musgrave – Orthotist of the Year, 26th July, 6pm
Join us to hear from 2021 Orthotist of the year Steven Musgrave.
Steven graduated in 2017 from Salford University and practices orthotics in Lincolnshire. He also has a keen interest in education and student placements.
 In this informal interview ,we will explore Stevens career to date and the milestones along the way.
Knee Joint Systems – 9th August, 6pm
Open Discussion- Clinician's experience with lycra in patient treatment- 23rd August, 6pm
Pro or against lycra? We want to hear your thoughts, views and experiences! Do you currently use lycra? Do you want to use lycra but do not have funding granted? What are the clinical indications? What patients are appropriate- conditions and symptoms from your experience? Success stories? Positive and negative responses? Difficulties with using lycra? What can manufacturers of lycra do to help make clinician's role easier? Is there a lycra product you would like as an off the shelf or made to measure that is not currently available? Join us on August 23rd to be involved in the discussion!