All students are welcome at our BAPO Conferences and we run special offers and reduced prices to enable them to attend.
Students can visit our purpose-built exhibition to see first-hand the latest innovations and technologies the industry has to offer, together with the opportunity to meet and chat with representatives from some of the country's leading P&O companies.
Our extensive clinical program offers students the opportunity to attend a variety of seminars and workshops presented by some of the leading figures in the profession.
With so much on offer why wouldn't you attend?
But don't just take our word for it please see below testimonials from students attended Conference 2019:
"Despite being a 1st year at the time, I was advised to go to the BAPO conference in order to see how the topics covered at University are put into practice. It was superb advice. Stewarding is a great way to visit the conference on a budget and opens the doors to numerous fantastic speakers and topics that you would otherwise miss. I found this especially useful as the talks helped solidify and expand on the concepts we'd learned in lectures. The conference is excellent for meeting people within the industry to ask questions and discuss their products, while also making connections with potential future employers. If you have the opportunity, get stuck in!" – Dave Garcia, University of Salford (2nd Year)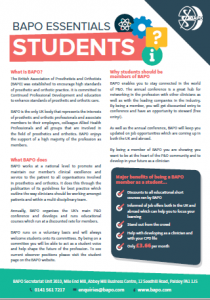 "Attending the conference enables you to find out about all the up and coming research that has been occurring and interact with the people that are at the forefront of that research first-hand. It provides a lot of networking opportunities that allows you to make connections with those professionals and companies that could likely be your future employers. There is also the ability to meet students from other universities doing similar courses as these will most likely be your future colleagues." – Caitlin Roberts, Strathclyde University
Visit the registration page to secure your place for conference 2020!