Clara Bailey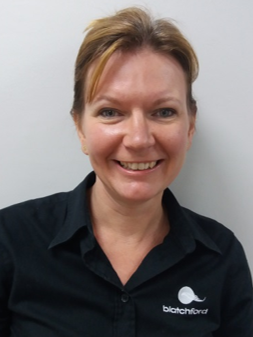 Clara Bailey graduated from Westminster College in 1995 with an HND in Orthotics. Clara has worked as a Senior Orthotist at the Mobility and Specialist Rehabilitation Centre, in Sheffield UK since 2000.
Clara practises within the general field of adult orthotics with a specialist interest in the treatment of the diabetic foot.  She is part of Sheffield's multidisciplinary foot clinic where she works closely with medical and surgical consultants, specialist podiatrists, clinical nurse specialists and other orthotists. The main aims of this dedicated foot clinic are to treat acute and chronic diabetic foot complications and provide long term solutions to maintain the health of the diabetic foot.
Clara also specialises in providing footwear to patients with complex orthopaedic foot deformities and works closely with the manufacturing team to develop and improve the footwear range and quality.  She is the lead footwear champion at Blatchford offering support and advice to colleagues.
She is also a clinical educator and examiner for orthotic students from the University of Salford. 
Clara is a member of the British Association of Prosthetists and Orthotists (BAPO)
Nomination received:
It is a fundamental quality of any Orthotist working in the UK today to have a deep desire to improve patients' lives while truly understanding their professional role in providing effective and appropriate orthoses for life long care. 
Having a passion not only for treating patients, but also in teaching and mentoring junior Orthotists is a skill and quality that is essential in keeping our small profession on the radar of the wider health professional fraternity and the NHS.  Clara Bailey is one such Orthotist who over the past 25 years has dedicated her career to doing just that. It is because of her dedication and unwavering passion for excellent patient care, specialist interest in footwear and mentoring emerging Orthotists that we believe she is worthy of a lifetime achievement award in this, her 25th year.
Clara graduated from Westminster College in 1995 with an HND in Orthotics. Her passion for footwear began there, where she, as all Orthotists did at the time, spent many hours in footwear factories talking lasts, uppers and sole units. Clara realised that although the provision of footwear may not be considered the most glamorous aspect of Orthotics, it is an important and necessary one, and if done with consideration and understanding can make a huge difference to the quality of life of the recipient. Throughout her career, she has worked collaboratively with footwear manufacturers, developing and expanding her excellent understanding of the anatomy of footwear and demonstrating what can be achieved for the patient through appropriately specified footwear.
Early in her career at NGH Clara worked closely with County Footwear to develop the house shoe concept for diabetic patients. The design incorporated diabetic specification into shoes to protect the patient whilst indoors in place of slippers, which can be damaging to insensate feet. This resulted in a change of practice in our services where diabetic at-risk patients are now assessed and fitted with house shoes.
Clara works as a Senior Orthotist for Blatchford at the Mobility and Specialist Rehabilitation Centre, Sheffield Teaching Hospitals (STH)where she has been in post since 2000. Clara practises within the general field of adult orthotics with specialist skill and leadership in the provision of orthotic footwear. She also has the role of footwear lead within Blatchford where she is responsible for delivering footwear-training courses to all graduates and Orthotists. Her distinguished expertise has been recognised within Blatchford where she provides mentorship and troubleshoots for services with complex footwear issues
Within STH Clara is an important member of the multidisciplinary foot clinic where she works with medical and surgical consultants, specialist podiatrists, clinical nurse specialists and other Orthotists, specifically in providing orthotic provision for the diabetic foot. She also specialises in providing footwear to patients with complex orthopaedic foot deformities with the goal of ensuring the patients maximum achievable participation in daily life.
"The best thing about moving to Sheffield was meeting you.  I don't think I would still be walking if I hadn't"  
"I have had loads of problems but Clara and her team have worked so hard to make walking so much easier. Appreciate all they have done."
Comments and feedback like these are frequent and testament to Clara's dedication to improving patient lives through the provision of orthotics.
In addition to her clinical role, Clara is a clinical educator and examiner for orthotic students from the University of Salford.  She has been examining our undergraduates since 2007 and is passionate about ensuring the quality of our graduates meets the needs of our patients and profession! She is also extremely keen to ensure that all undergraduates receive a good experience in their training. She is driven in helping others learn, be it graduates, orthotic colleagues or the wider members of the multi-disciplinary team.
'Clara's attention to detail in all aspects of her job made her an ideal clinical supervisor for me. She was extremely supportive and generous with her knowledge, while demanding extremely high standards of clinical evaluation and patient care.'  Quote from Peter Durkin, former student.
As an expert in her field, Clara recently visited Sri Lanka to deliver a week of presentations and workshops on diabetic foot care.  The Sri Lankan government wanted to learn how the service compares to those delivered in the UK.   Clara led the training and along with a colleague from Carlisle delivered a series of presentations and workshops on various subjects including patient assessment, patient education, manufacturing of footwear and orthoses.  Workshops were organised to allow the Orthotists to develop their practical skills.  Clara is hopeful that her time there has encouraged them in their aim of improving orthotic care for diabetic patients.
Most recently, Clara is currently working with the manufacturing team to develop and improve the Blatchford insole range, ensuring consistent quality and effective scanning techniques. She understands that embracing up to date technologies is key for the continuation and progression of best practice in orthotics. Clara has helped develop a range of insoles, written "how to" guides for measurement, troubleshooting footwear issues and footwear terminology references.
For the past 10 years, Clara has been writing a book on footwear as a guidance for other Orthotists that she plans to self-publish this year. The book is a practical guide for Orthotists to effectively assess, measure, order and fit footwear. In the book, Clara shares her methods and ideas, borne from 25 years of trial, error and experience in view of helping others in their practice and driving forward best outcomes for patients. A remarkable CPD achievement in itself!
We believe that Clara is a very worthy candidate for the BAPO Lifetime Achievement Award. Clara represents the Orthotist that every team member aspires to be. She is modest and committed; she is passionate and held in high regard by her peers, patients and MDT colleagues.  Clara contributes tirelessly and to the development of our profession, through passion of doing what is right and doing it well.  Clara champions the field of Orthotics above and beyond her job role and she has does this out of her desire to make a positive difference in peoples lives. Clara Bailey would be a worthy recipient of this prestigious BAPO lifetime achievement award.
Pam Jenkin
I was born at a young age and due to significant parental influence grew up.  I went to university, graduated and worked but failed to thrive, until I changed course and pursued prosthetics. At that time the London School of Prosthetics trained us in the practicalities and Paddington College the academics of the profession.  My experience in the field started in Cardiff....continued in Cardiff....and if I am very lucky will end in Cardiff! I often feel my aim in life is to advertise both prosthetics which is an amazingly interesting, satisfying, absorbing profession, and Cardiff which is probably the most under-rated capital in Europe.
I have seen some remarkable changes in the field of prosthetics and yet at base realise that no matter what the advances have been it is the grit and resilience of the amputees we serve which determines their success. I have been privileged to work with them and some remarkably fine Prosthetists as colleagues.
So join 'Team Prosthetics' for a satisfying career! ...........end of advertisement 🙂 
Nomination received:
I'm honoured to nominate Pam Jenkin for the Lifetime Achievement Award. Pam has worked as a Prosthetist in Cardiff for nearly 35 years, and although I have only known her for a fraction of that time I have rarely met an individual so dedicated to their profession and who embodies the values of this prestigious award so well.
Pam attended Rodway Technical School, which specialised in science and engineering. Initially she trained as and worked as a dentist (1976-85) before realising her true passion, Prosthetics.
Pam left her friends and family in Bristol to persue this new career and began her training as a Prosthetist in Cardiff in 1985. She received her HND in Prosthetics & Orthotics from Paddington College in '88, before completing an OPTEC Diploma in Prosthetics from the London School of Prosthetics in '91.
After qualifying she chose to remain in Cardiff, and has remained here ever since. She has remained a constant throughout multiple company changes, beginning her working life for Vessa Ltd, then Hugh Steeper Ltd, Chas A. Blatchford, and most recently in 2012, for Cardiff and Vale University Health Board.
Pam has continued to update her skills since qualifying, showing her dedication to continuous professional development in ways such as voluntarily undertaking several challenging qualifications to better her leadership skills and ability to support her patients. She achieved her GCSE in Psychology in 2001, MA in Professional Studies in 2011 and her Postgraduate Certificate in Professional Practice Studies in 2015. She continues to prioritise her CPD and assists the department in maintaining theirs, from sharing her tips on how to effectively plan and benefit from CPD, to organising team training sessions to keep the entire departments mandatory training up to date. She religiously reads BAPO Connect, Assistive Technology Magazine, any any relevant newspapers, articles or hospital updates, and sends out any information she finds which is of interest to her colleagues. She also uses her impeccable writing skills to aid her colleagues in any way she can, including being the proof-reader for my BAPO Connect articles! She has seen Prosthetics change from Metal 8's to the introduction of microprocessor controlled componentry and has ensured she has updated her skills at every opportunity, attending TIPS and ISPO Conferences, and evolving her practice with the times. Most recently her achievements were recognised in the form of a promotion to Advanced Specialist Prosthetist in September 2018.
Above and beyond these achievements, Pam has influenced several aspects of Prosthetics in Wales. She uses her psychology and professional studies qualifications to their full potential. She expertly manages teams and personalities to help them achieve their fullest potential. She arranges meetings and keeps them on track with meticulous organisational skills, note keeping and scheduling. Unfortunately she is so organised, she is the only person who knows the full extent of what she does! She tutors new staff and students in how to manage stress in the workplace, which shows with no new staff hired in Cardiff for 11 years! She aids those around her to manage their work/life balance and maintain both morale and productivity in the workplace. She encourages team working which generates a happy atmosphere, recognising people's differences and strengths and how to use these to their advantage. She always takes a few minutes out of her busy day to make everyone a cup of tea, and to tend to the plants, making the workplace a better place to be. Even before terms such as "continuity of care" where commonplace, Pams commitment to her profession, her patients and her colleagues have ensured that Cardiff has reaped these benefits: improved communication and  safe, effective and high quality care with improved clinical outcomes.
Pam also has been and continues to be an advocate for the User Group. She ensures that the people we are there to helps voices are present in all meetings and discussions, frequently enlisting this group in decisions about how the service develops. Even outside her direct participation, this important link has meant Pam has been a major influence in the development of the not only the prosthetic, but rehabilitation and specialist services in Wales.
Unsurprisingly, as someone who joined the profession before it was a degree course, she has been a BAPO member since it's founding in 1995 and believes supporting the professional body is important to ensure our profession is respected and heard. She continues to fight for the recognition that Prosthetists and Orthotists are equal members of the multi-disciplinary team. As a woman who was a Prosthetist "before the tide turned", she is resilient as she is gentle and throughout she has maintained her sense of humour. She is a matriarcle figure, gracious, sweet and personable, and a reliable constant.
Not only is Pam a gifted prosthetist, but she takes time to nurture students and colleagues (and plants!) as well. She is one of the most humble people I have ever met, and I do not know whether she would be honoured or horrified that I have nominated her for this award. However, when I began working in Cardiff I was asked who my role models were in the field and if asked again now, I would have to say Pam. She may not have shouted the loudest, but she has been a constant, positive force within the Welsh Prosthetic Service, who loves her job and working with the patients. She has increased the breadth and scope of her practice, never looking at personal gain but how she can improve prosthetics on the ground level, where it matters most, and I aim to follow her example. Pam is due to retire after 35 years serving the patients of South Wales and I feel it is essential that her work not go unrecognised, and that is why I have nominated Pam, and why I believe she is worthy of this Lifetime Achievement Award.