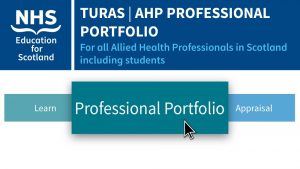 Allied Health Professional (AHP) Professional Portfolio
NHS Education for Scotland (NES) have now launched the AHP Professional Portfolio on the TURAS platform.
The AHP Professional Portfolio is an online resource for AHPs to record and store their evidence for continuing professional development (CPD).  The tool has some fantastic templates for recording reflective practice, feedback and support and supervision.  It is designed to help you develop a portfolio of evidence to support appraisal, planning career development and HCPC audit.
The tool is for all AHPs in Scotland, including the NHS, Social Care, Education, Voluntary and Independent Sectors.
Features of the AHP Professional Portfolio:
Personal Profile
Record information about your professional, employment, career, development and achievements.
Your professional profile can be used for a number of purposes
to keep your profile up to date and in one place
to help develop a CV
to have information ready to help complete an application form
to demonstrate your achievements to your manager or supervisor
to review your profile to identify gaps in your development or areas of interest
to help you consider your career aspirations and plan your professional journey
Evidence
This section allows you to keep an unlimited record of all your CPD activities in chronological order, there are also templates for reflective practice and support and supervision and a tool to receive feedback.
Uploaded Documents
A great space to store any supporting documents, photographs, audio files etc which support your CPD activities
Share Packs
An innovative feature is the Share Pack function which allows you to collate and share your evidence from all parts of your portfolio with others using a web link.
Share Packs can be used to:
Share evidence in support of your personal development plan (PDP)
Share evidence with your lecturer, educator or supervisor to show how you have made progress towards or met the requirements of an educational course
Create a CV to assist when you apply for a new role or job or to review your own career
Share Packs are best viewed online to enable any uploaded documents to be easily viewed.
You can register for free, if you do not already have a TURAS account, go to https://turasnmportfolio.nes.nhs.scot/
For those who already have a TURAS log in you can add the AHP Professional Portfolio application by clicking on the 'add application' link on the TURAS Dashboard page and choosing Professional Portfolio